wap.org E-mail Services
Configuring Services
Sidebar: Configuring E-mail software
It's now easier than ever to configure your e-mail software for use with wap.org.
E-mail configuration settings

| | |
| --- | --- |
| POP server | mail.wap.org |
| SMTP server | mail.wap.org |
| IMAP server | mail.wap.org |
| WebMail URL | http://mail.wap.org |
| Account name (e.g.) | jane.member |
| Password (e.g.) | 1234.abcd |
| E-mail address (e.g.) | jane.member@wap.org |
Note: the older addresses still work just fine. There's no need for you to change a winning game.
Compatible Applications
A quick straw poll of members online reveals the following partial list of e-mail software being successfully used every day with the new server.
Apple Mail 1.2
Claris Emailer 2.0v3
Eudora 5.1
Microsoft Entourage X
Netscape Communicator 4 is said to work well when using TCS Explorer as an ISP. Due to a bug involving password windows, members find it annoying to use from an outside ISP reaching in. Reports say that Netscape Communicator 7 does not have this problem.
Mac OS X Settings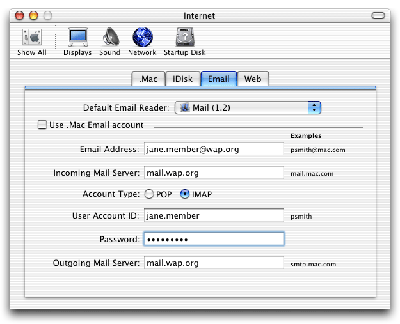 System settings are the same for offline (POP) or online (IMAP) mail access. The server address is always simply mail.wap.org.
Apple Mail Configuration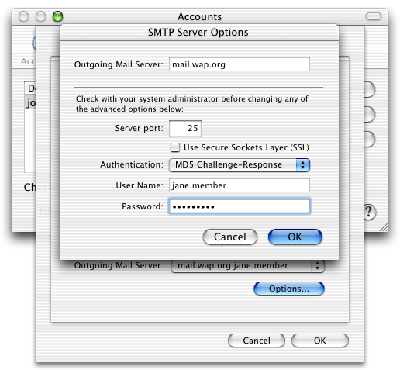 SMTP authentication allows you to deliver e-mail even if you're accessing wap.org from an outside ISP.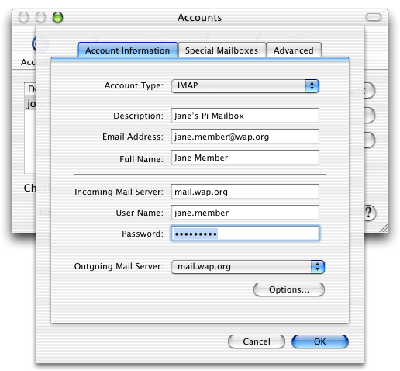 Apple's Mac OS X Mail application can use the IMAP mail protocol to view messages directly on the server. The POP mail protocol, in contrast, downloads and relocates mail to your machine for safe keeping.
In case of fire
Need help with your wap.org e-mail?
The TCS E-Mail FAQ covers everything from price to policy, philosophy and setup.
http://www.wap.org/tcs/email.html
The TCS Configuration Station has tips for configuring specific software.
The discussion boards are your best source of 24-hour expert help.
http://tcs.wap.org/topics?c=1&b=13
When all else fails, turn to the middle of this Journal for a list of Hotline numbers: volunteers willing to help by telephone.
---