Gamla Stan (Old Town), covering four islands in the heart of Stockholm, is where the city was born, first as a fortified place, growing gradually to become Sweden's capital. The lacy iron spire to the right, on Riddarholmen (Knight's Island), is atop the ancient Riddarholmskyrkan (Knight's Island Church), the final resting place for Sweden's kings since 1290. The iron spire is a relatively modern addition.
Right next to the Royal Palace in Gamla Stan is the Storkyrkan (Great Church), shown below. Much larger than the picture suggests (the area is quite cramped), Storkyrkan is the traditional site for crowning Swedish monarchs. The church contains an enormous statue of St. George and the Dragon (St. George and his horse are life size), and two enormous box pews with overhanging, oversized canopies in the shape of crowns, the reserved seats for the king and queen. (Modern, democratic Sweden, however, no longer crowns their monarchs.) This photo was taken from the corner of the Royal Palace.
The courtyard of Storkyrkan played a major role in the life of Sweden: in 1520, the Danish King Christian II invited 80 Swedish nobles to a dinner and, once gathered, had them beheaded in the courtyard, with their heads piled as a warning to other Swedes to accept Danish rule. This event had the opposite effect, sparking a Swedish drive for independence.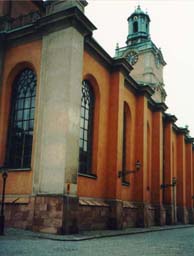 Photos (c) 1997 Lawrence I. Charters