Klarakyrka (St. Clara's Church) dominates the skyline of the Stockholm business district, but is virtually unmentioned by residents and tour guides. The interior is light and airy, with an 18th century flowery touch, in marked contrast to the heavy, massive exterior.
Walled in on all sides, the grounds offer no suggestion you are in the heart of a major city. This solitude has a downside, however: several heroin addicts were off in a corner, heating spoons and baring their arms.
A few blocks away, in the sunken plaza in front of the Kulturhuset (House of Culture), you can often see young people inhaling gas in the late evening.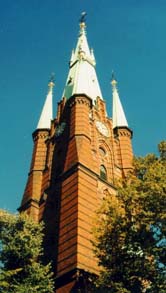 Photos (c) 1997 Lawrence I. Charters