All The News That Fits
One of the first "Internet" services offered by the Washington Apple Pi telecommunications complex was access to (a limited subset of) Usenet News. This originally involved a bunch of Apple IIe computers, several Corvus Constellation hard drives/networking units, some of which were working (don't ask), and some custom programming that displays a rare combination of genius and masochism.
Today, Usenet has all but vanished except for Usenet news, and the Pi's access to news was handled (until recently) by this little Macintosh LC pizza-box computer on loan from a member. We aren't certain what is handling news at the moment, since that has changed several times over the past several months, but we can tell you that the penguins pictured objected to the pizza-box Mac since it came without anchovies. The new system, understandably, includes smelly little fish.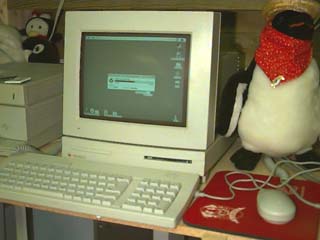 (Photo Copyright 1997 by Jon C. Thomason; taken with an Apple QuickTake 150 camera)

[Previous][Next]

---
June 28, 1997 lic
---